The Henry B. Tippie National Aviation Education Center will be the first phase of the CAF National Airbase Campus in Dallas. Your gift provides educational opportunities for students to learn STEM aviation sciences and history to develop leadership and 21st century job skills.
The Center is nearing completion and is scheduled to open to the public in Fall 2021, but we still need your help! The current project budget is approximately $14 million and we've raised $13.5 million. The Ray Foundation will match all funds raised for the Capital Campaign dollar-for-dollar, up to $500,000, received by December 31,2021. Your gift today goes twice as far!
Donate $25,000 or more by December 31, 2021, and you will be recognized on the Founding Donor Wall. Naming opportunities available for donations of $100,000 or more.
---
Donate Today
Winter 2020 Construction Update
---
About the CAF's Henry B. Tippie National Aviation Education Center
The Henry B. Tippie National Aviation Education Center will be the cornerstone of the CAF's education outreach efforts. Through a combination of unique partnerships, volunteers, aircraft, aviation tools, and technical knowledge, the CAF will create a valuable and necessary learning environment for students of all ages and demographics. Because of our national scope, the Center will also be used as a development lab for educational programs that will be exported to our units and partners across the country.
The Center is a 47,000 square foot facility that comprises a Science, Technology, Engineering and Math (STEM) Innovation Hangar, Nose Art Gallery, workshops, classrooms, and display atrium for the CAF's extensive collection of WWII artifacts. Additionally, one of only two flying B-29s in the world will be based out of this facility. Operational aircraft, especially our warbirds, require lots of love. The Education Center will provide a space to help us accomplish our maintenance and restoration work, while also sharing it with younger generations.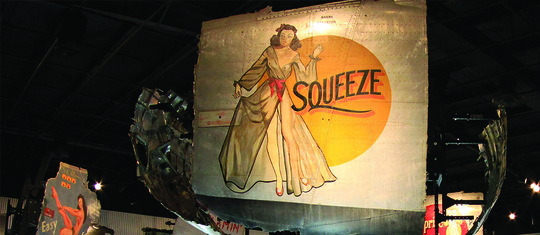 CAF Nose Art
The CAF Nose Art collection is the world's largest collection of aviation Nose Art, 34 hand painted panels owned by the CAF. While currently in storage, the renowned collection will be displayed in the Education Center upon completion.
---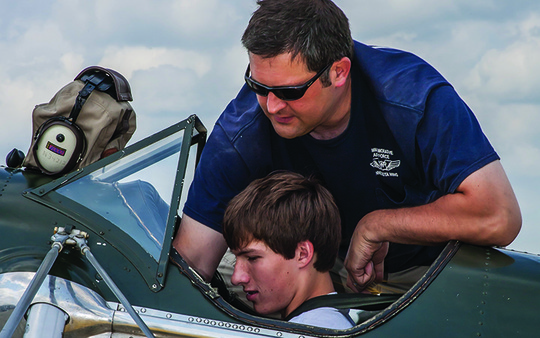 Education Programs
The CAF is creating vertically-aligned educational opportunities for students to grow STEM and aviation skills. Experience and exposure to aviation and aviation careers will reach students at multiple points in their development, from pre-kindergarten through high school. The CAF's goals for educational programming are to:
Provide experience and exposure at every stage, including the youngest pre-kindergarten learners, to aviation and aviation-related careers.
Inspire and foster the development of 21st Century professional skills, specifically communication, critical thinking, collaboration, creativity, and citizenship, through aviation and/or history-related learning.
Build STEM skills through an understanding of aircraft design, science of flight, and systems management.
Using the CAF's collection of unique WWII aircraft and artifacts, simulate exposure to the commitment of the entire nation to fight the war against tyranny, which will develop skills such as leadership, communication, collaboration, critical thinking, citizenship and patriotism.
Create a pipeline of high school graduates with employable skills in aviation, including within the areas of flight, aircraft maintenance, and aviation operations,
Be the go-to resource for Career Technical Education (CTE) aviation-related programs, including hands-on experience, student internships, flight experience and building mechanical comprehension.
---