The Henry B. Tippie National Aviation Education Center (NAEC) is the flagship facility of the American Airpower Heritage Museum (AAHM) at the Commemorative Air Force National Air Base in Dallas. Your gift provides educational opportunities for students to learn STEM aviation sciences and history to develop leadership and 21st century job skills.
The NAEC will hold a grand opening for the public this Veterans Day, November 11, 2021.
Though exterior and interior construction is complete, we still need your help! The current fundraising is approximately $14 million, and we've raised $13.5 million. The Ray Foundation will match all funds raised for the Capital Campaign dollar-for-dollar, up to $500,000, received by December 31,2021. Your gift today goes twice as far!
Donate $25,000 or more by December 31, 2021, and you will be recognized on the Founding Donor Wall. Naming opportunities available for donations of $100,000 or more.
---
Donate Today
2021 Update
---
About the CAF's Henry B. Tippie National Aviation Education Center
The Henry B. Tippie National Aviation Education Center (NAEC) is the hub of the CAF's education outreach efforts. Using our unparalleled access to flight and living history for out-of-school learning, we provide programming that engages students in learning that is rigorous and fun. Our shared interest in seeing students succeed is an important collaboration we believe will benefit students, their families, and the community at large for years to come. Because of our national scope, the NAEC will also be used as a development lab for educational programs that will be distributed to our Unit locations and partners nationwide.
The NAEC is a 47,000 square foot facility that comprises the Victor N Agather Science, Technology, Engineering, and Math (STEM) Innovation Hangar, the AAHM Gallery Space, and the Arsenal of Democracy Atrium. Our exhibits will focus on five stories from World War II: (1) Texas' role in the Allied victory; (2) Women Airforce Service Pilots (WASP), America's first female military pilots; (3) Aztec Eagles, a Mexican fighter squadron, (4) Tuskegee Airmen, America's first Black military pilots, and (5) Rosie the Riveter, women who worked in manufacturing roles to support America's war effort. In addition, the James C. Ray Education Wing includes workshops, classrooms, and meeting spaces.
Two significant rare World War II aircraft, FIFI, a B-29 Superfortress and Diamond Lil, a B-24 Liberator are based out of this facility as well. Operational aircraft, especially our warbirds, require lots of love. The NAEC will provide a space to help us accomplish our maintenance and restoration work, while also sharing it with younger generations.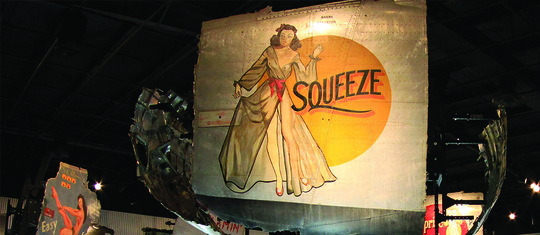 CAF GALLERY FEATURING ICONIC WWII NOSE ART
The CAF Nose Art collection is the world's largest collection of aviation Nose Art from World War II. The 34 hand painted panels owned by the CAF are classified as a national treasure by the National Trust for Historic Preservation. A selection of panels from this renowned collection will be on display in the AAHM Gallery as part of an interactive exhibit.
---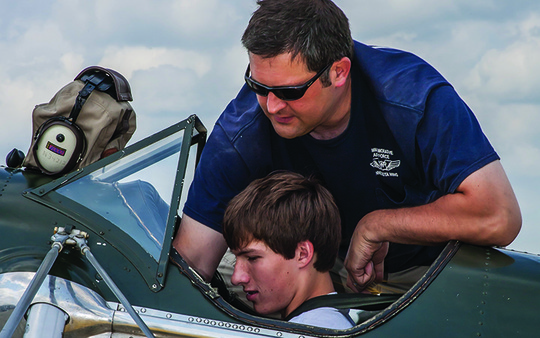 Education Programs
Using an inclusive age- and skill level- appropriate approach, we have programs for pre-K to High School, as well as adult-focused programs, that can lead to specific job skill certifications or college credits.
With a focus on experiential learning, we place strong value in the correlation between quality of education and quality of life. Through experience, we have seen proof that knowledge empowers choices that positively influence our social and family environments. Programs at the NAEC integrate leadership development throughout, showing that leadership starts with self-mastery in education, character, and decision making. Leadership is a choice and behavior, not just a title. To do this we integrate 21st job skills, including: Critical Thinking, Communication, Collaboration, Creativity and Citizenship – all skills that are vital to career success.
Project Activities
The NAEC will host a fleet of programming opportunities.
-A Month in the Life Simulation: During this two-hour simulation, students will take on the role of an individual who is involved in the World War II war effort on the Homefront, working through the challenges of daily life while supporting the fight for freedom. This program will run daily for approximately 165 days per year during the school year.
-Aircraft Restoration: High School Career Technical Education (CTE) students restore a historic aircraft, bringing it to flight status. This program launched in the fall of 2019 under the name Project Cub.
-Summer Aerospace Camp: Middle school students will participate in several 1-week camp sessions, focused on careers, character, flight science, and World War II history. These camps will provide hands-on, engaging activities to propel retention and success, and to inspire interest in aviation.
Young Learner's Program: Called A is for Aerospace, pre-kindergarten and kindergarten students will engage in a half-day of hands-on learning, rotating through stations to experience aviation and basic flight science.
-Club Aviation Badge Programs: Scouting and other aviation merit programs will work through the required learning to master aviation and/or aerodynamic concepts.
-Build Guild: Student programs from upper elementary through high school will utilize the CAF's workshop to learn mechanical comprehension skills, safety practices, and build service projects for their own schools and local airports.
-Flight Training: Using historic aircraft, students will build flight hours and skills.
-Turnkey Aviation Manufacturing Program: Area schools will use the facility and tools to teach students the skills and techniques needed to earn their FAA aircraft maintenance technician rating.
-Student Internships: Aviation, education, business, and marketing CTE and P-TECH students will work as interns during the school year and throughout the summer.
---