The National Aviation Education Center will be the first phase of the CAF National Airbase Campus in Dallas, Texas. Your gift will help provide opportunities for students to learn aviation technologies, history, social studies and leadership development through real-life projects focused around our historical aircraft. The programs developed at the Education Center can also serve students around the country through our national network of CAF units and other aviation partners.
Your support can make a big impact!
About the CAF National Aviation Education Center
This project will further our mission of inspiring the next generation, while also providing a solid first step in building a national campus at Dallas Executive Airport that will benefit the entire CAF. Our plans include a 30,000 square foot STEM Innovation Hangar. (Note STEM = Science, Technology, Engineering, and Math). This hangar is a great way for us to display and maintain our aircraft, while also providing space for conducting educational activities and hosting large events.
Operational aircraft, especially our warbirds, require lots of love. This means that we need a hangar to house our aircraft and we need workshops with the proper tools for maintenance and restoration. This space will help us accomplish this need, both for aircraft that are based locally and those that may be visiting.
Our aircraft are only operational, and programs are only functional, with the help of volunteers. Our volunteers are all the tip of the spear when it comes to deploying the CAF mission. We recognize that providing a place for our volunteers is very important. The Arsenal of Democracy Atrium will be 7,000 square feet of space for squadron meetings, social gatherings, and a display space to tell the story of World War II through some of the unique artifacts that are a part of the CAF museum collection. The inclusion of artifacts is important for the educational mission.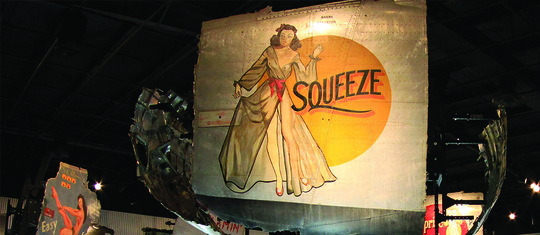 CAF Nose Art
The CAF Nose Art collection is the world's largest collection of aviation Nose Art, 34 hand painted panels owned by the CAF. It is now on temporary exhibit at the EAA Aviation Museum in Oshkosh, Wisconsin. We would love to have a CAF space to be able to display the renowned collection. Future phases will include more space to display artifacts, but we felt it was important to have a space for the Nose Art collection as early as possible.
---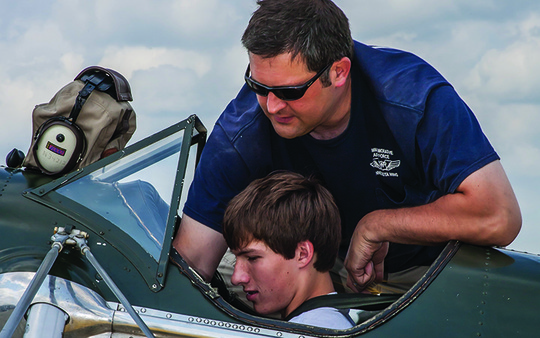 Education Space
With about 10,000 square feet of workshops and classrooms, the Education Wing provides a space for students to participate in hands-on learning activities. Of course, these are not conventional "classrooms" with chalkboards and desks; these rooms are more reminiscent of science labs with tables on wheels and slop sinks. The workshops will be stocked with science and mechanical equipment. These spaces will also be outfitted with distance learning capabilities and a flight simulator lab.
The goal of the CAF National Airbase campus is to provide not only a place to operate our CAF aircraft locally, but also a space for the organization to gather, and a flagship space that will showcase who we are as an organization and what all we are able to offer through first-class experiences and events. The CAF National Aviation Education Center will be able to provide practical educational programming and resources for the entire organization. In the coming year, Vice President of Education Bill Shepard, will provide more details about how the CAF unit locations will benefit from the education programs developed and tested at our education center.
Science, technology, engineering, and math (STEM) and vocational training have been gaining a lot of attention within educational circles, and we have a unique opportunity to highlight World War II history through these subjects. By teaching World War II history through our collection of artifacts, showing students how aircraft fly, and creating STEM guided experiences, we will create an education center that provides a one-of-a-kind experience for all who walk through its doors.
---
We need your help to meet this challenge. Each dollar you give between now and December 31st is worth twice as much. We hope you will be able to join in our enthusiasm, show your support, and contribute too.