Big Country Squadron
Abilene, TX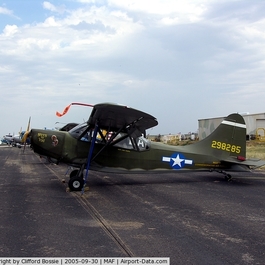 UNDERGOING REPAIR In 1940, Gen. George S. Patton purchased a small aircraft called a Stinson Voyager. He used the aircraft extensively in Ft. Benning Georgia to keep an eye on training of his armored brigade. Due to the Voyager's ability to operate where most aircraft couldn't, Gen. Patton was able to be everywhere at once. Something he never could have accomplished in a command car. Patton's use of the Voyager paved the way for liaison aircraft also known as "L-Birds" and "Flying Jeeps". The first liaison airplane specifically built for the army was the Stinson L-5 Sentinel. Beginning in 1942, the L-5 was utilized in every theater of war providing courier service between Army...
...
At the Big Country Squadron, we are honored to share the story of Military Aviation and the vital role it has played insuring our freedoms and protecting our nation.
The mission of the Commemorative Air Force is education, such that generations of Americans will value and support the contributions of military aviation in assuring our nation's freedom.
No events currently scheduled.