Delaware Valley Wing
Forked River, NJ
Address:
711 Chelsea Street
Forked River, NJ 08731
Contact number:
(732) 684-7881
The Stinson model 10A "Voyager" was a fairly advanced airplane for its size at the time of its introduction in 1940. It has features (built-in leading edge slots and three-position slotted flaps), which were not found on airplanes its size for another 15 years. The Stinson 10A Voyager, as with most "off-the-shelf" models, was drafted into the Armed Forces during World War II and served in a variety of liaison and observation missions. The Army Air Corps initially purchased six Model 10s, designating them Y0-54, for their liaison program in 1940, and in 1942 twenty Model 10As were purchased and served as the L-9B. France placed an order for 600 Voyagers, but few were delivered before...
...
The Delaware Valley Wing was formed in 1990 and currently flies a Stinson Model 10/L-9 in WWII Civil Air Patrol colors and is restoring an Interstate Cadet similar to the one flown by Cornelia Fort, a civilian flight instructor who was in the air and attacked by the Japanese at Pearl Harbor. Fort was one of the founding members of the WASPs.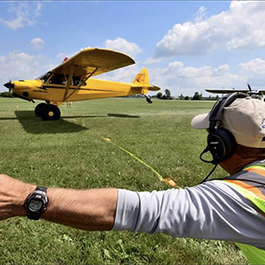 Montgomery Township, New Jersey
CAF Delaware Valley Wing- Introduction to our Wing membership More Info
Date and Time: SEPT 26, 10 a.m.- 3 p.m. at 39N (Rain date SEPT 27th). SAVE THE DATE-Our WING membership is planning a spot landing and flour bombing socially distant get together. $25 dollars gets you lunch and a position to join us in a socially, fun introduction to our membership and a chance to show your skills. More details to follow for contact and sign up. Princeton Airport 39N in N.J.