Redbird Squadron
Dallas, TX
Welcome to the Redbird Squadron of the Commemorative Air Force. We are based at Dallas Executive Airport (KRBD), a convenient 15 minute drive south of downtown Dallas, Texas. Or fly in to see us and grab a bite at the restaurant on field!
Our squadron's themes are educational outreach and US liaison and primary aircraft used during WWII. We are currently the caretakers and operators of a Taylorcraft L-2 "Grasshopper" aircraft.
Our squadron is unique in its educational theme and intent. We hope each of our events demonstrates our work in developing exciting new themes for local classrooms, events, and airshows related to vintage military aircraft.
We hope you will come visit us and attend our upcoming events!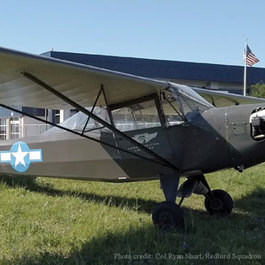 L-Birds Over Normandy More Info
THE COMMEMORATIVE AIR FORCE REDBIRD SQUADRON PRESENTS: "L-BIRDS OVER NORMANDY" If you are a history buff, a vintage aircraft enthusiast, love the military, or just want to spend an afternoon learning something about history, join us on June 22nd at Dallas Executive Airport, home of the Commemorative Air Force's "Redbird Squadron." The central theme of our event will be a presentation on the history of "liaison aircraft" in the Normandy Campaign during the Second World War. We will also share specifics about our aircraft, a Taylorcraft L-2A "Grasshopper" and how it relates to the historical events that took place 75 years ago over France. Lunch will be served for a donation and...
...