CAF Dixie Wing to Feature PT-17 Stearman/N2S Kaydet with Online Live Presentation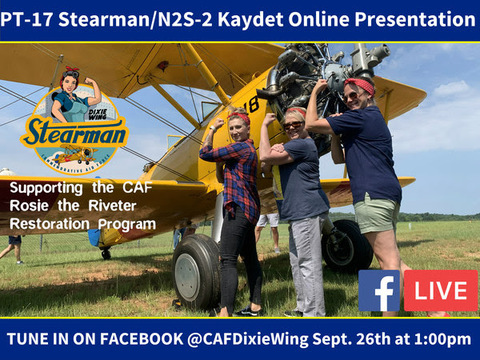 The Commemorative Air Force (CAF) Dixie Wing will present a panel discussion on the history of the PT-17 Stearman/N2S Kaydet at its Living Aviation History program Sept. 26, 2020. The program will be streamed live at 1 p.m. on the Dixie Wing Facebook page, https://www.facebook.com/CAFDixieWing. Audience members will be able to interact with the speakers by posing questions during the streaming.
The Boeing-Stearman Model 75, widely known as the Stearman, Boeing Stearman or Kaydet, it served as a primary trainer for the United States Army Air Forces, the United States Navy (as the NS and N2S), and with the Royal Canadian Air Force as the Kaydet throughout World War II.
The Dixie Wing has acquired a 1941 Stearman (Boeing) N2S2-Kaydet and has begun the restoration process. The project will be dedicated to "Rosie the Riveter," the cultural icon representing women who worked in factories and shipyards during WWII, helping transform America into the Arsenal of Democracy.
The goal is to return the classic biplane to the air by 2024 in time to celebrate the 90th Anniversary of the first Stearman flight. More than 8,428 "Kaydets" were built for the United States and its allies. During its 11 years of military service, more American military pilots learned to fly in the "Kaydet" than any other airplane. The two-seat biplane's simple and sturdy design made it ideal for novice pilots.
Presenters will cover the restoration of the Dixie Wing Stearman with a focus on Rosie the Riveter and several female members of the Wing who are actively working on the project. The Dixie Wing plans to develop its restoration program led by the female members, to honor all WWII "Rosie the Riveter" female workers.
The program will be streamed live at 1 p.m. on the Dixie Wing Facebook page.
Atlanta Regional Airport-Falcon Field
1200 Echo Ct
Peachtree City, Georgia, 30269
More Info: https://www.facebook.com/CAFDixieWing