Upcoming Events
The Commemorative Air Force would like to contact you regarding news, events, and programs. By signing up you indicate that you agree to our
privacy policy
. Please note you can unsubscribe at any time.
December - 2020
The TBM is a rare torpedo bomber which played a crucial role in the Pacific Theater. This aircraft has the distinction of being the only aircraft in the CAF fleet on the National Register of Historic Places. Please...
Go to event
780 Heritage Way
Grand Junction, CO, 81506
December 2-3, 2020, 9 a.m. - 5 p.m. EST-Join keynote speaker Dierks Bentley, a multi-platinum singer/songwriter and certificated pilot on day one of NBAA GO Virtual Business Aviation Convention & Exhibition...
Go to event
National Business Aviation Association
Washington, DC, 20005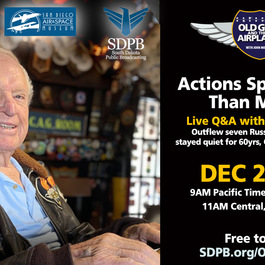 (Sioux Falls, SD) —On 2 December 2020, educators, teachers and leaders will have the opportunity to meet and interact with Korean War hero, Capt. Royce Williams (ret). The interview is part of the Old Guys and...
Go to event
The Distinguished Flying Cross Society
P. O. Box 502408
San Diego, CA, 92150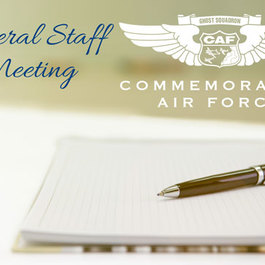 General Staff: The government of this organization shall be vested in a General Staff of eleven (11) officers. These officers will be selected as prescribed in the Bylaws. The General Staff shall constitute the duly...
Go to event
3300 W Mockingbird Ln.
Dallas, TX, 75235
It's that time again! Time to book your flight to see Christmas lights from the air. Flights begin December 11th and run through December 23rd. Cost is $75 each for a cabin seat (4 seats available); $145 for...
Go to event
Midland Airpark
Midland, TX,
March - 2021
ROME, GA (OCTOBER 2020) -The Southeast Council of Air Shows (SECAS), a regional group of the International Council of Air Shows (ICAS) and JLC AirShow Management are excited to announce the second annual SECAS Summit...
Go to event
Russell Regional Airport
304 Russell Field Rd NE
Rome, GA, 30165
Date & Times: Saturday, March 20,2021 9:00 a.m. to 3:30 p.m. Ticket Prices: Adults (18 & Up) $20.00 Senior (60 +) $15.00 Active Military w/ID $15.00 Teens (13-17) $10.00 Children (6-12) $7.00 5 & Under ...
Go to event
Burnet Municipal Airport
2302 S Water St
Burnet, Texas , 78611