CAF Red Tail Squadron - See the Mustang at Thunder Over Louisville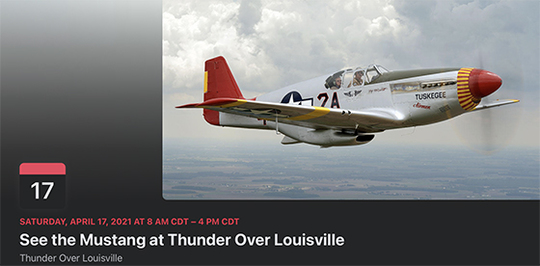 We're finally back to flying! The Mustang will make an airborne appearance at the Thunder Over Louisville Airshow on April 17. This will be a drive-in show, so there will be no ground displays, and our mobile exhibit won't be present, but you can come to see the P-51C Mustang #TuskegeeAirmen do what it was made to do!
Thunder Over Louisville is the official opening ceremonies for the Kentucky Derby Festival and also one of the nation's largest annual fireworks shows!
LOCATION: 1001 South 3rd St. Louisville, KY 40203
Get more show info at the ticket link or click the link.
Bowman Field
Louisville, KY,
More Info: https://thunderoverlouisville.org/airshow/