Flying Lengends of Victory Tour: Broomfield, CO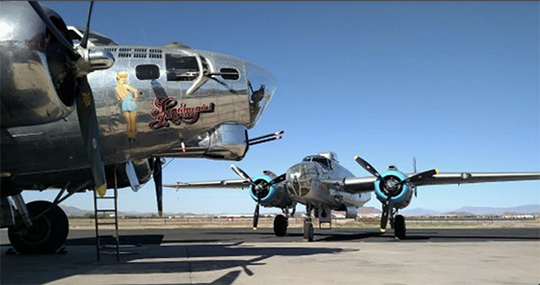 See two of the most iconic bombers of WWII when the B-17 Flying Fortress and the B-25 Mitchell visit Broomfield July 1-July 5!
Ground Tours: Tue-Thur 9 a.m. to 6 p.m. Fri. - Mon 2 p.m. to 6 p.m. Admission is $15 per person or $25 for a family of four. Tour tickets are available at the trailer, and no reservation is required.
Rides: Fri - Sun 9 a.m to 1 p.m. B-17 Bomber $425 USD per waist compartment seat (6 available) $850 USD per Bombardier/Navigator Seat(2 available) B-25 Bomber $325 USD per waist compartment seat (4 available) $590 USD per Jump seat (3 available)
NOTE: We encourage everyone to come out and tour our plane(s). However, due to the current COVID-19 pandemic and to keep everyone safe, we ask the following -- If you are experiencing any COVID-19 symptoms, please stay at home. Please maintain social distancing while waiting in line to make purchases at our trailer, while waiting in line for airplane tours, or when inside the plane. Wearing a face covering may be required by local restrictions.
Rocky Mountain Metropolitan Airport
11855 Airport Way
Broomfield, CO,
More Info: https://www.azcaf.org/location/broomfield-co-tour-stop/