B-17 Sentimental Journey Returns to the Heber Valley Airport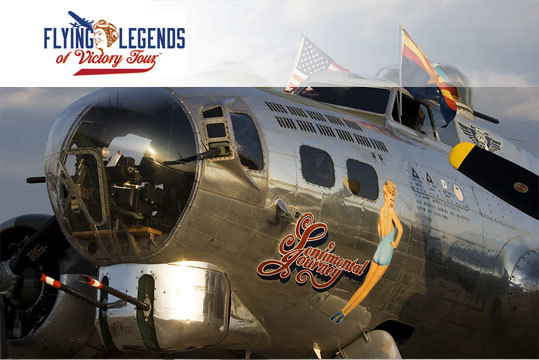 B-17 Sentimental Journey Returns to the Heber Valley Airpor
Dubbed the "Flying Fortress" by World War II airmen, the B-17 Sentimental Journey will land at the Heber Valley Airport at noon on June 3, 2019 and will be available for tours June 3-6 and rides June 7-9. The B-17 is sponsored by the Utah Wing of the Commemorative Air Force Museum and is part of a week-long commemoration of the 75th anniversary of D-Day.
This iconic plane stands as a witness to those who sacrificed all in the defense of freedom. Considered by many to be the most recognized aircraft of WWII, there is no question that this formidable weapon helped win the war. It boasted a heavy defense of thirteen 50-caliber Browning machine guns and it could carry a bomb load of 8,000 pounds. Today, roughly 50 of these aircraft exist worldwide; approximately ten are still flying.
BOOK YOUR B-17 RIDE TODAY -Seats are limited.- 480.462.2992 www.azcaf.org Rides on a North American T-6 Texan are available June 3-10 – 801.719.8876 . For more information about this event, visit the CAF Utah Website.
Russ McDonald Field
630 Airport Rd
Heber City, UT, 84032
More Info: https://www.cafutahwing.org/