Mile High Wing Hangar Dance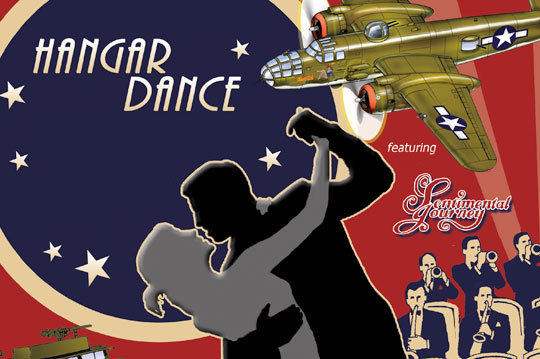 $20 ADVANCE - $25 AT THE DOOR PRESENTING THE 'WINGS AND SWING' HANGAR DANCE -- SATURDAY, MAY 25th ROCKY MTN METRO AIRPORT – Broomfield, CO Pedestrian Access Gate
event website Mile High Wing website
Hangar Dance: 5 – 10 pm Swing Dance Lesson: 6:30 – 6:50 pm Band: Bianca and the Flyboys / 7 – 10 pm Master of Ceremonies and DJ: Greg Kyle / 5 – 10 pm
THE C.A.F. MILE HIGH WING BRINGS YOU LIVE MUSIC AND DANCING AMONG THE BACKDROP OF THE WWII B-17 "SENTIMENTAL JOURNEY," AND OUR WWII SNB-5 "SONORAN BEAUTY."
BIANCA and the FLYBOYS PROVIDE THE SWING-ERA TUNES FROM GLENN MILLER AND OTHERS!
LIVE 1940s MUSIC! SWING DANCING! FREE PARKING! FREE DANCE LESSON! WWII AIRCRAFT! PHOTO OPPORTUNITIES!
SOFT DRINKS AND OTHER BEVERAGES / VINTAGE WWII FILMS / WWII AIRPLANE GROUND TOURS!
Denver's premier Commemorative Air Force wing is hosting a hangar dance on Saturday, May 25th, 2019. Our all-volunteer organization welcomes you to enjoy an evening of dancing and vintage clothing. Our exciting hangar dance is that same evening from 5 pm – 10 pm. Attending the dance helps support U.S. History by keeping our 1943 Navy SNB-5 (Beechcraft 18) flying. Rides in various aircraft will be offered to the public.
Please contact staff@milehighwing.org for additional details. Or call (720) 383-9265
Rocky Mountain Metropolitan Airport
11855 Airport Way
Broomfield, CO,
More Info: https://www.facebook.com/events/2280271105581116/