CANCELLED-Airpower History Tour- South Bend, Indiana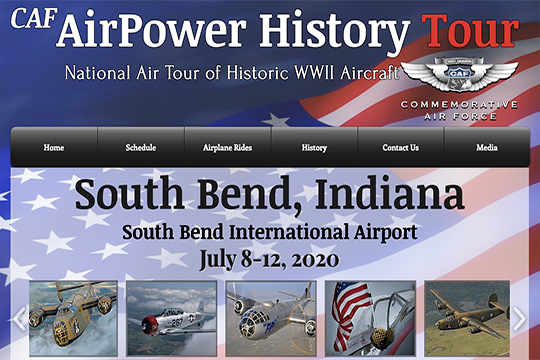 Dates & Times: Wednesday, July 8, 2020 9:00 a.m. to 5:00 p.m. Supporting Aircraft Available for Rides All Day
Thursday, July 9, 2020 9:00 a.m. to 5:00 p.m. Supporting Aircraft Available for Rides All Day
Friday, July 10, 2020 9:00 a.m. to 5:00 p.m. Supporting Aircraft Available for Rides All Day
Saturday, July 11, 2020 9:00 a.m. to 5:00 p.m. B-29 Flies at 9:00 a.m. and 10:30 a.m. B-24 Flies at 9:30 a.m. and 11:00 a.m. Supporting Aircraft Available for Rides All Day
FIFI & Diamond Lil will make an appearance at America's Freedom Fest in Goshen, IN Saturday evening.
Sunday, July 12, 2020 9:00 a.m. to 5:00 p.m. B-29 Flies at 9:00 a.m. and 10:30 a.m. B-24 Flies at 9:30 a.m. and 11:00 a.m. Supporting Aircraft Available for Rides All Day
Ramp Access Cost: $20: Adults $10: Children (Age 10 thru 17) Free: Children (Age 9 & Under)
All tickets are purchased on-site on the day of the event. Price includes free B-29 & B-24 cockpit tour when the aircraft is available. Attending aircraft subject to change due to weather or maintenance.
Event Location: Atlantic Aviation 4302 Lathrop St. South Bend, IN 46628
South Bend Intl
South Bend, IN,
More Info: http://www.airpowersquadron.org/southbend-indiana