Filming History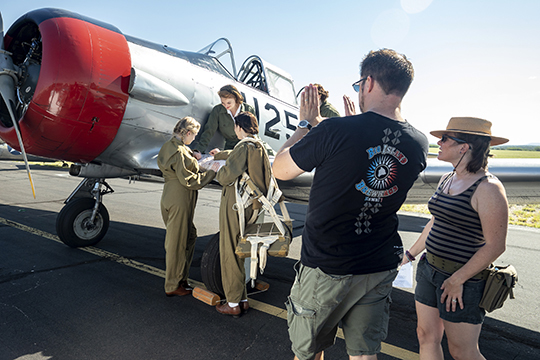 Filmmakers Kara and Adam White will present a behind the scenes look at the new aviation experience Rise Above: WASP. Created for the Commemorative Air Force, the new film about the Women Airforce Service Pilots takes aviation films to a whole new level. Producer Adam White and director Kara White will discuss the production to give folks a behind the scenes look at creating this new ground-breaking film.
Kara White Kara is a Producer, Director, Writer, and Co-Owner of Cleveland-based Hemlock Films. Her most recent film is Rise Above: WASP, created for the Commemorative Air Force as part of a traveling educational exhibit about the women pilots in WWII. Also in 2019 she Co-Produced the Emmy winning Space Chase USA for WUCF about the Space Coast and the Apollo program airing nationally on PBS. She made her Directorial debut with the documentary Beyond the Powder for PBS, about the first women's cross-country air race and those that continue to fly the race today. It continues to air nationally on PBS. She has also produced the Emmy Award winning aviation documentary series titled The Restorers airing on PBS, a documentary web series for the Texas Flying Legends narrated by Mike Rowe, and the film Rise Above: Red Tails for the CAF Red Tail Squadron's traveling educational exhibit. Kara also is a co-host and Producer of Warbird Radio's Air Raid Radio, a show about women in aviation; which was included in the 2016 Edward R. Murrow Award for overall excellence.
Adam White Adam graduated in 1995 with a degree in Motion Picture Production from Wright State University's prestigious film program. He has won multiple Emmys for his films The Restorers, Red Tail Reborn and Space Chase USA. Adam won an Emmy for Best Cinematography for his work on the PBS film Generations: Cuyahoga Valley National Park. In 2011, Adam and his company Hemlock Films received the "Special Achievement" award from the International Council of Airshows for their film Rise Above: Red Tails. With over 20 years of experience, Adam has worked on big budget Hollywood films, TV shows, award winning documentaries, and commercials in various roles. He now concentrates his time as a Director/Cinematographer with a specialty in SteadiCam. Adam is a licensed pilot and makes a mean bowl of chili.
Dallas, Texas,
More Info: https://attendee.gotowebinar.com/register/3459659922596319504