Texas Aviation Academy - 4th of July Fly-in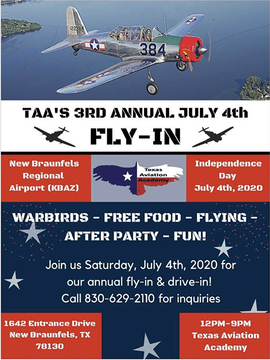 Save the date and mark your calendars to come help us celebrate our Nation's Independence with Food, Music, Fun, and Warbirds! Fly-in, Drive-in, or Walk-in!
Texas Aviation Academy is PROUD to announce that our July 4th Fly In will have the Men in Black! Although, these MIB will not protect us from extraterrestrial beings... they will protect your aircraft engine with proper lubrication and from over heating in the south Texas sun. Stay tuned for more details!
New Braunfels Rgnl
New Braunfels, TX,