Wing Staff Conference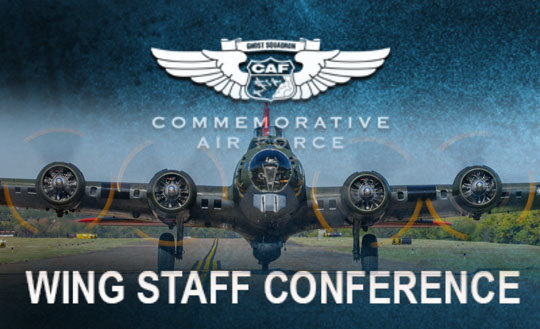 CAF Members Only annual conference. The 2020 Wing Staff Conference will take place February 27 - March 1, 2020 at the Westin Galleria in Dallas, Texas!
To attend this conference you must be a CAF Member (Colonel, Preservation Colonel, Life Member or Cadet). Registration includes all meals, sessions and a ticket to the CAF Hall of Fame Banquet. For additional questions, call (877) 767-7175, ext. 123 or email Lawanda Strhan at lstrhan@cafhq.org.
If you are unable to attend the conference sessions, but would like to attend the CAF Hall of Fame Banquet or have a guest who will be attending the meals only, tickets for those individuals and events are available on the registration form as well. To attend any one of the day trips, please add that to your registration form.
REGISTRATION COSTS (Per Person): Dec. 10 - Dec. 21: $200 Dec. 21 - Jan. 24: $250 Jan. 21 - Event: $300 (Including On-Site Registration) CAF Hall of Fame $70* *Included in your event Registration.
---
EVENT SCHEDULE
Thursday, Feb 27 TBD
Friday, Feb 28 TBD
Saturday, Feb 29 TBD
Sunday, March 1 TBD
---
HOTEL INFORMATION
The conference will be held at the Westin Galleria Dallas, 13340 Dallas Parkway, Dallas, TX.
Start Date: Sunday, February 23, 2020 - Wednesday, March 4, 2020 ** Last Day to Book: Monday, February 3, 2020
Book your group rate (149 USD per night) for Commemorative Air Force 2020 • Complimentary wireless internet in guestrooms • Complimentary self-parking
Dallas Executive
Dallas, TX,