Wing Staff Conference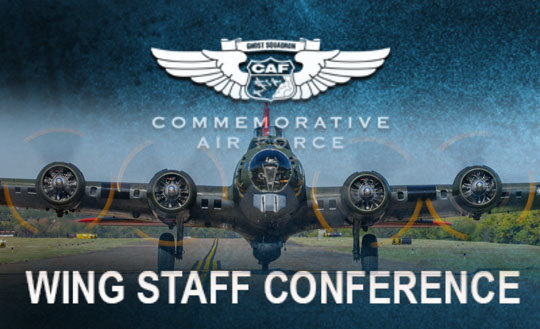 CAF Members Only annual conference. The 2020 Wing Staff Conference will take place February 27 - March 1, 2020 at the Westin Galleria in Dallas, Texas!
To attend this conference you must be a CAF Member (Colonel, Preservation Colonel, Life Member or Cadet). Registration includes all meals, sessions and a ticket to the CAF Hall of Fame Banquet. For additional questions, call (877) 767-7175, ext. 126 or email Dulari Mehta at dmehta@cafhq.org.
If you are unable to attend the conference sessions, but would like to attend the CAF Hall of Fame Banquet or have a guest who will be attending the meals only, tickets for those individuals and events are available on the registration form as well.
REGISTRATION COSTS (Per Person): Dec. 22 - Feb. 2: $250 Feb. 3 - Event: $300 (Including On-Site Registration) CAF Hall of Fame $70*
EVENT SCHEDULE
Thursday, Feb 27
8 - 9 a.m. American Airpower Heritage Foundation Board Meeting
9 - 10 a.m. American Airpower Heritage Flying Museum Board Meeting
10 - 11 a.m. National Airbase Board Meeting
1 - 3 p.m. General Staff

Friday, Feb 28 (Registration Open All Day)
6:30 - 7:45 a.m. Breakfast
8 - 9: 30 a.m. Opening General Session
10 - 11: 30 a.m. Breakout Session 1
Noon - 1:30 p.m. Lunch
2 - 3:30 p.m. Breakout Session 2
4 - 5 p.m. Breakout Session 3
5:30 - 6:30 p.m. Welcome Reception
    6:30 - 10 p.m. CAF Flight Deck (Hospitality Area - Cash Bar)

Saturday, Feb 29 (Registration Open All Day)
6:30 - 7:45 a.m. Breakfast
8 - 9: 30 a.m. Breakout Session 4
10 - 11: 30 a.m. Breakout Session 5
Noon - 1:30 p.m. Lunch
2 - 3 p.m. Breakout Session 6
3:15 - 4:15 p.m. Breakout Session 7
6 p.m. Cash Bar - Cocktail Hour
7 p.m. CAF Hall of Fame Ceremony and Banquet

Sunday, March 1 7 - 8:30 a.m. Breakfast 8 - 10 a.m. "Rep Your Unit!" Chat with the CEO
HOTEL INFORMATION
The conference will be held at the Westin Galleria Dallas, 13340 Dallas Parkway, Dallas, TX.
Click here to book online.
Start Date: Sunday, February 23, 2020 - Wednesday, March 4, 2020 ** Last Day to Book: Monday, February 3, 2020
Book your group rate (149 USD per night) for Commemorative Air Force 2020 • Complimentary wireless internet in guestrooms • Complimentary self-parking
Breakout Sessions
DEVELOPMENT
Development sessions will teach fundraising basics and ways to develop long lasting relationships with Unit sponsors and supporters.
Improving Your Vision: Fundraising Fundamentals - Fundraising can be a daunting task, but the truth is that anyone can be a great fundraiser when equipped with the right knowledge. This session will provide you with a framework to understand how you (yes, you!) can raise money for your unit.
Getting and Keeping Event Sponsors in Your Sight - Sponsorships can make or break an airshow or event. What do you need to know before you approach a potential sponsor? This session will teach you how to develop unique and valuable sponsorship opportunities to attract potential sponsors and keep them for the long-term viability of your event.
Fundraising from a Donor's Point of View - Why does anyone donate to the CAF? What are donors looking for when they donate to an organization? In this session, we will explore motivations for philanthropic giving and provide techniques to develop long-lasting relationships with your unit's supporters.
EDUCATION
Build a foam glider, see how easy it is to plan an Aviation Discovery Day, and experience an actual mini version of the Aviation Discovery Zone for yourself!
I want a Career in Aviation-- Help Me! - Local high school students will share their experience working to restore a J-3 Cub, internship experiences, hopes for their future, and how you as a CAF member can help others just like them. Each attendee will receive a gift from the students.
How to Organize an Aviation Exploration Day - Learn how simple it is to host students of any age for a day of aviation-related exploration. Partnerships, activities and set-up will be discussed.
Foam Glider Engineering - Using one simple activity that requires very few, inexpensive materials, learn how to showcase flight and scale the example to extend to any age level and to fill anything from 15 minutes to a half-day.
Mini Aviation Discovery Zone- Come Play! - Work through various stations in a make-and-take setting. You will see how easy it is to showcase principles of flight, engineering, ATC and mechanics in these simple work stations. Take home ideas for your own Aviation Discovery Zone or activities to engage a few kids in learning about aviation.
FINANCE
Understand the role of the Unit Finance Officer and how to manage QuickBooks, plus get all your questions answered.
The Vision Begins for the Finance Officers - The ins and outs of being a Finance Officer.
QuickBooks Online for Beginners - Introduction to QBO.
*Unit Finance Q & A* - Ask the question and we will give you an answer.

*A New Vision for the Advanced Finance Officers* - In depth look at what Finance Officers will need to take care of and any changes that will take place.

*QuickBooks Online continues* - More in depth of QB Online.

*Unit Finance Q & A* - Ask the question and we will give you an answer. (Special extended session, Finance ONLY.)

MARKETING
Hear from pros and newbies on media and airshows, get a handle on Social Media, and guidelines for working with the media in good times and in bad times.
Managing the Media - This session will focus on working with the media. Talking to the press when an incident occurred, what's news to them, what to put in your press kit.
Aviation Event Group Therapy - This new session will bring together airshow pros and newbies to talk about some of the challenges with running an aviation event. From how much to spend on marketing to managing the volunteer force will be discussed.
Social Media - Learn how to leverage your presence into engagement and visitation. Find out what your audience wants, how to use calls to action, and how to use advertising to expand your reach and influence. Also discover what 2019 trends tell us about social media in 2020.
MEMBERSHIP
Gain perspective on the member experience and how to engage members
See it Clearly-Connecting the Member to the Mission - Expanding on the vision of the CAF from a member perspective focusing on Educate Inspire and Honor through a variety of activities that engage members, community and local non-profits to further our vision.
*'Member Me - Vision of a CAF Member* - Do you clearly see why people join the CAF? Using the 5 Ws and H (who, what, why, where, when and how) method; grow your understanding of CAF members in order to inspire retention

Unite your Unit - U and the Unit - Learn how to connect with your Unit members as well as connect with other Units to build a stronger alliance as one organization to fulfill the mission.
OPERATIONS
Everything you need to operate you unit, safety information, tools and tips for maintenance and much more.
Safety Update & Operations Intro/Operations Review - Recap of 2019 - Our Staff intro/WSC Ops Programs - 2020 going forward Operations overview of 2019 and regulations changes going forward for 2020.
Maintenance Review w/Bob Heath/FAA PMI - Maintenance review of 2019 and changes going forward for 2020 guest speaker FAA overall PMI for Café's Tony Baumgard.
Aircraft Restoration Update - Review of all CAF aircraft restorations plus a special presentation from the BT-13 Sponsor Group.
CRM Presentation - Presentation on Crew Resource Management
Air Capital Insurance Review - Insurance update from ACI
Teamwork in the Volunteer Organization - Tools and tips and language to support good teamwork and promote smooth and safe operations.
CAF Unit Maintenance & Traxxall - Overview of CAF Unit Maintenance tracking tools and tips.
Dallas Executive
Dallas, TX,