CAF "Tex" Hill Wing-TRARON Formation Clinic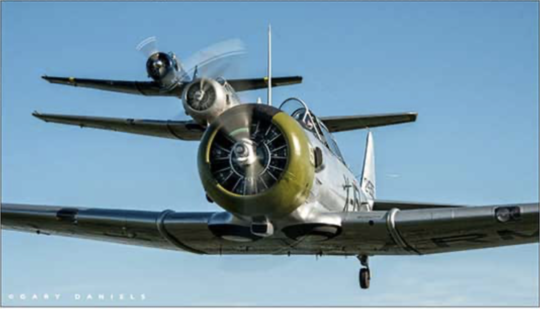 Please join us for a Commemorative Air Force TRARON Formation clinic at the Stinson Municipal Airport – KSSF from January 15-18, 2021 Friday to Monday. It is a 3-day weekend.
All current 2021 Commemorative Air Force TRARON members are welcome, and training will be offered in the T-6/SNJ/Harvard. Participants must be Commemorative Air Force and TRARON members. TRARON membership questions can be directed to Paul Mackey.
Arrival day is Friday the 15th and the clinic will begin with a mandatory safety briefing at 0730 on Saturday. Ground school will be provided at 6PM on Friday the 15th for those needing initial formation ground instruction. Training will conclude Monday the 18th with departure day being also Monday the 18th.
The Tex Hill Wing of the Commemorative Air Force will comply with any local, state or federal restrictions related to COVID-19, and may be forced to cancel this event at short notice. In that case, a cancellation fee would not apply; instead, all fees collected would be returned to registrant. Participants are aware of the risks of COVID-19 infection due to exposure to other people, whether symptomatic or not, and whether direct or indirect.
More information is available on the CDC website at this address: www.cdc.gov/coronavirus/2019-ncov. The Hold Harmless agreement that all TRARON clinic participants must sign includes acknowledgment and acceptance of these risks.
Please review ALL of the registration steps below before proceeding:
• REGISTER ONLINE. Register HERE , supply the requested information, and pay the $145 registration fee, if you are attending to receive training. Instructors and Check pilots volunteering to help with the clinic do not need to pay the fee. (Check pilots please complete the Volunteer registration
•TRAINING? To be added to the list of trainees at the clinic (Wingman or Lead qualification), check the "What do you want from this clinic" box during registration.
• INSURANCE. E-mail a Certificate of Insurance that meets TRARON's Clinic Insurance Requirements to Jeff Schmidt at texhillwingclinic@gmail.com.
• HOLD HARMLESS AGREEMENT. You must accept the HH terms. Please print it, sign, and witness, and bring hardcopy to the clinic. Each person registered, including guests, must sign an agreement.
Other Information: • MEALS. Breakfast and Lunch will be provided on Saturday, Sunday and Monday.
• HOTELS. The Formation Clinic hotels will be the two below. They are co-located and share the same owners and parking lots. Both are an 8-minute drive to the hangar. Uber from the hotel to the hangar is approximately $13. • Holiday Inn Express - 210-337-3723 • This is the discount code for the event. • https://www.hiexpress.com/redirect? path=hd&brandCode=EX&localeCode=en&hotelCode=SATSE&rateCode=IL3SG&_PMID=99 585603&cn=no&viewfullsite=true
• Hampton Inn & Suites - 210-333-4800 • If you prefer a Hilton property, call for a 10% discount off the negotiated price.
• Rental cars: • RENTAL CARS. Enterprise Reserve early – Enterprise is 3 minutes away and the THW will get you a ride to your car. You can have one delivered through the FBO Gate One at Stinson Field, but airport fees will be added to the rental. Please reserve at least 48 hours prior to your arrival to ensure they have your car ready.
• https://www.enterprise.com/en/car-rental/locations/us/tx/san-antonio-se-military-dr-5225.html? mcid=yext:245709
• FUEL, OIL & HANGARS. Gate One at Stinson Field is the fuel provider. Gate One and the Tex Hill Wing will have oil for T-6 aircraft. Contact Gate One to verify that they will carry oil to suit your other aircraft needs during your stay. Hangar space is not available.
Contacts: Jeff Schmidt-Clinic Lead-(210)385-7677 (Cell)-texhillwingclinic@gmail.com
Paul Mackey-Training Officer-(918)408-7278-paul_mackey@hotmail.com
• Registration is required, Payment in Full in Advance Only: All pilot participants must be current 2021 Commemorative Air Force TRARON members.
• Cancellation Policy. We will issue a full refund if cancellation is received prior to January 8th, 2021.
Included in Registration. Each participant will receive Breakfast and Lunch on Saturday, Sunday and Monday, Formation Clinic T-shirt, instruction, and check pilot examinations, if needed. Note: It is very rare for new formation pilots to achieve their FAST Wing Card at their first clinic. The recommendation to take the wing or lead practical examination is solely at the discretion of the instructor and check pilots.
Stinson Municipal Airport
8535 Mission Rd
San Antonio, TX, 78214
More Info: https://texhillwing.org/event/traron-formation-clinic/