The TBM Avenger Reunion & Salute to Veterans Airshow is BACK for 2021!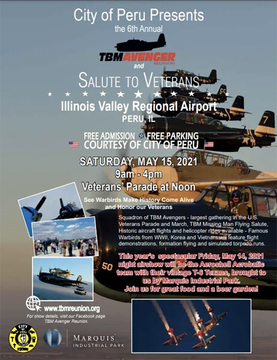 The show returns to the Illinois Valley Regional Airport (KVYS) in Peru, Illinois! Thanks to the City of Peru and our other generous sponsors, we will hold our annual air show Friday Night (May 14th) & Saturday, May 15th. Friday Night Activities are 6:00 PM to 10:00 PM and Saturday will run from 9:00 AM to 4:00 PM (Veterans Parade at NOON). Admission to the event is FREE!
Salute to Veterans Parade-In addition to our airshow, we are proud to again feature our Salute to Veterans parade. We are planning a bigger and better parade this year and encourage all veterans to participate so that all can show their appreciation for your service to our country. We'll update with more details as we formalize our plans.
Event Highlights: Friday Night Spectacular: AeroShell Aerobatic Team Night Airshow, Beer Garden, Food, Music & MORE!
Saturday: Salute to Veterans Parade, AeroShell Aerobatic Team, F6F Hellcat, 14+ TBM Avengers, P-51 Mustang, Corsair, T-6s, Trainers, Jets & MORE!
Illinois Valley Rgnl-Walter A Duncan Field
Peru, IL,
More Info: https://tbmreunion.org