COMMEMORATIVE AIR FORCE AIRBASE GEORGIA - HOSTS "KEEP EM' FLYIN" HANGAR DANCE BRINGS BACK THE 1940S, NOSTALGIA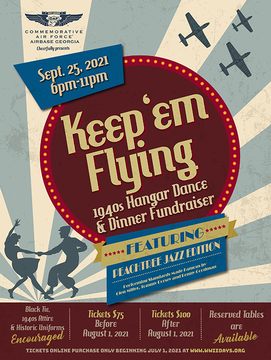 The glamor and romance of the Big Band-era will return Sept. 25, 2021 when the Commemorative Air Force (CAF) Airbase Georgia hosts "Keep 'em Flying", a hangar dance and dinner fundraiser set in an aviation museum surrounded by historic World War II aircraft and decorated to recreate the iconic mood of the 1940s. The festivities will take place from 6 p.m. -11 p.m. at the CAF Airbase Georgia Warbird Museum, Atlanta Regional Airport-Falcon Field, Peachtree City.
As a thank you for your participation, support and loyalty to WWII Heritage Days over the years, we are providing all registered volunteers with a $25 discount on the purchase of one (1) ticket for CAF Airbase Georgia "Keep 'em Flying" 1940s Hangar Dance and Dinner Fundraiser. Please note that the promo code is good for tickets only and cannot be applied to a table purchase. All tickets must be purchased online to receive the discount and utilize the promo code. We expect a sellout, so please purchase your tickets ASAP.
Finally, please pass on to others in your organization that they should register to volunteer to receive the volunteer discount.
Website: https://www.wwiidays.org/shop/
Atlanta Regional Airport-Falcon Field
1200 Echo Ct
Peachtree City, Georgia, 30269
More Info: https://www.wwiidays.org/shop/