Airbase Georgia's WWII Heritage Day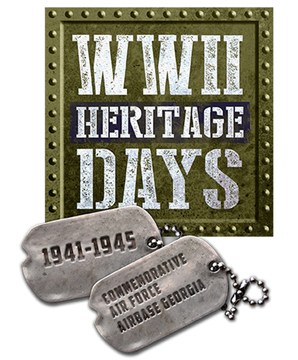 Our mission? "To celebrate the 1940s, salute the Greatest Generation, and Inspire all ages to preserve the legacy of America's Veterans!"
Beginning in 2003, WWII Heritage Day has emerged as the largest annual World War II and 1940s themed event in Georgia. It is a can't-miss experience for anyone who enjoys nostalgia, historic aircraft and military vehicles, antique cars, and vintage fashion.
Enjoy warbird rides, military vehicles on display, food trucks, a PX and living history displays and presentations. The event will run from 9 a.m. to 5 p.m. at the CAF Airbase Georgia headquarters, 1200 Echo Ct., Peachtree City, Ga. As a special feature, CAF Airbase Georgia (formerly Dixie Wing) is inviting owners of Stearman vintage aircraft to participate in a fly-in for the day. The Airbase is currently restoring a Stearman biplane in honor of the Rosie the Riveters.
Admission is $10 for adults, $5 for ages 11-17. Children 10 and under are free.
Atlanta Regional Airport-Falcon Field
1200 Echo Ct.
Peachtree City, GA, 30269
More Info: http://www.wwiidays.org/product/wwii-heritage-days-ticket/