Flying Legends of Victory Tour - Idaho Falls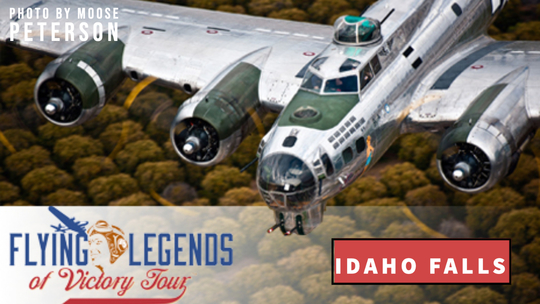 Be sure to click on the event website for the most up-to-date information about aircraft, dates, times, and booking a ride. Click here for more.
Not everyone can visit the Airbase Arizona Museum for an up-close and personal inspection of our historic warbirds. So, in the summer, we take our World War II planes to the public to fulfill our mission of educating generations about the role of aviation in combat history. Our summer air show, the Flying Legends of Victory Tour, starts in June and ends in October. Three of our flying warbirds travel to approximately 50 cities.
Keep your eyes to the skies when our B-25 Maid in the Shade and B-17 Sentimental Journey fly overhead to their next destination. And come visit us when we're in your town. Rides and tours are available but be sure to book your seat in advance because we'll only be there for a limited time.
Idaho Falls Rgnl
Idaho Falls, ID,
More Info: https://www.azcaf.org/location/idaho-falls-id-tour-stop/