Austin Warbird Expo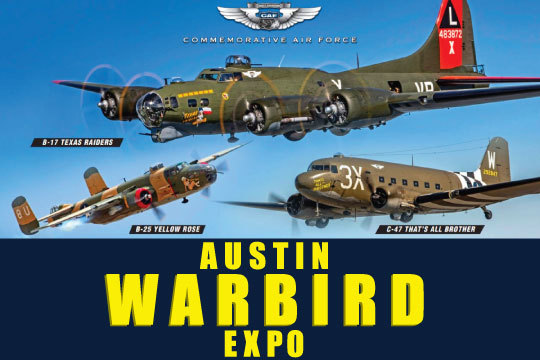 Put your hands on history this July 4th weekend and encounter the WWII aviator's experience on the ground and in the air.
Join us for on-board tours and warbird flights of vintage aircraft. Warbird rides start at just $100! Among the aircraft that will be there:
B-17 Flying Fortress (tours & rides)
B-25 Mitchell (tours only)
C-47 Skytrain (tours & rides)
T-6 Texan (tours & rides)
C-45 Expeditor (tours & rides)
JRB Expeditor (tours & rides)
These aircraft include the plane that led the D-Day invasion, the C-47 That's All Brother and the B-25 Mitchell Yellow Rose, not to mention the iconic B-17 Texas Raiders, the first warbird restored to be a flying museum!
For more info or to book a flight, click the link below:
Austin-Bergstrom Intl
Austin, TX,
More Info: http://www.austinwarbirdexpo.com/