Planes of Fame - Hangar Talk with D-Day Doll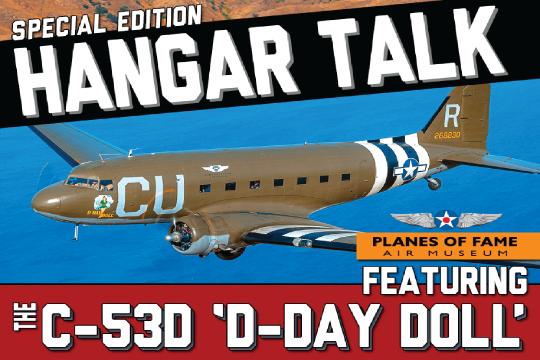 On Saturday, July 2, 2022, Planes of Fame Air Museum presents Hangar Talk event with our Flying Demo. The Museum will be featuring the Douglas C-53D Skytrooper D-Day Doll.
Museum doors will open at 9:00am on this day

Hangar Talk begins at 10:30am and lasts until 12:00pm

At 12:15pm, we'll be hosting our "Flying Demo" featuring the Douglas C-53D Skytrooper.

Living Historian "re-enactors" and Museum Guides will be on hand, as well as access to the B-17 "Flying Fortress", activities for younger visitors, Coffee & Smoothies, Tacos, and Ice Cream available for all. We'll be hosting an "Opportunity Drawing" of an outstanding piece of framed aviation art (proceeds go to Museum Education Programs) and a raffle drawing for our members in attendance for a flight in the North American SNJ-5 "Texan."

Regular Admission rates are in effect and Museum Members always get in free. The Museum is open until 4:00pm.
Hangar Talk is a monthly event that features brief presentations focused on the major achievements and little-known wonders of aviation history.
Click the link below to book your flight.
Chino
Chino, CA,
More Info: https://www.inlandempirecaf.com/book-online