Wings Over Camarillo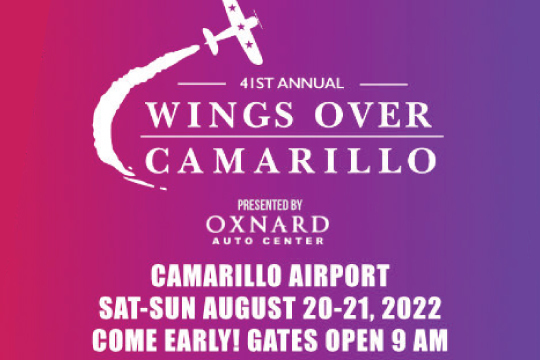 The Camarillo Wings Association will host this year's "Wings Over Camarillo" Air Show with support from volunteers from the Southern California Wing of the Commemorative Air Force, EAA Chapter 723 and the Ventura County 99's.
An expanded Air Show flight demonstration features many popular aerobatic routines with over 80 aircraft; including vintage planes, experimental, and WWII fighters, bombers and transports. The Air Show features public access to the planes, pilots, and crews.
Come for the day to watch and walk among the planes, take photos, and ask questions of the pilots and air show volunteers.
Kids 5 and under are FREE!
For tickets and more information click the link below.
Camarillo Airport
555 Airport Way, Ste B
Camarillo, California , 93010
More Info: https://wingsovercamarillo.com/