Girls In Aviation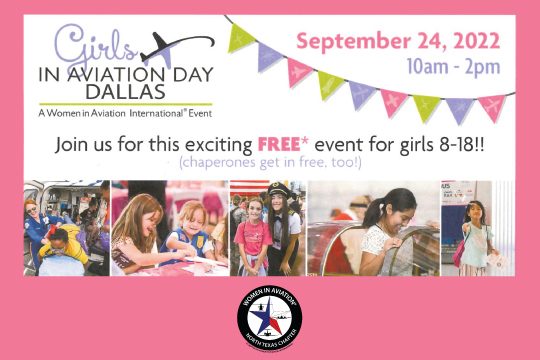 The North Texas Chapter of Women in Aviation (WAI) will once again hold their annual event, Dallas' Girls in Aviation Day at the Henry B. Tippie National Aviation Education Center (NAEC). The event will be on September 24, 2022, from 10 a.m. to 2 p.m. and is free for girls ages 8 to 18 and their chaperones.
Attendees will enjoy over a dozen interactive stations, a variety of aircraft to explore, and an opportunity to speak with female aviation professionals. The event will conclude with guest speaker Stephanie Chung, the first African American president in private aviation and current Chief Growth Officer of Wheels Up.
Click the link below to register!
Dallas Executive
Dallas, TX,
More Info: https://www.eventbrite.com/e/girls-in-aviation-day-dallas-2022-tickets-376956315487