2023 Olympic Air Show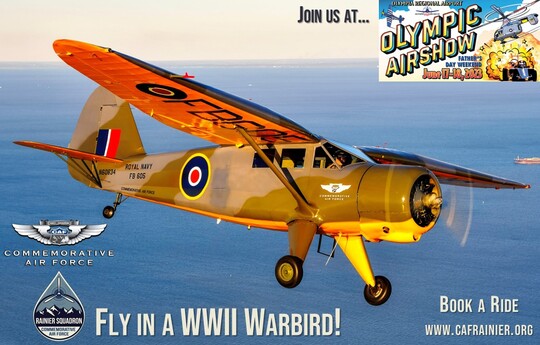 Join us at the annual Olympic Airshow June 17 and 18. Our 1944 Stinson AT-19 / Reliant will be on display and available for rides! Get your once in a lifetime ride in a real WWII veteran – our aircraft served with the UK Royal Navy in India.
We'll also have our tent staffed with members who will be happy to talk with you about Commemorative Air Force, our AT-19, and how to join the fun or support us in our mission to educate, inspire, and honor. Learn about our budding cadet program for aviation-oriented youth.
We'll also have great looking hats and patches available to purchase. All proceeds directly support our ability to share this historic aircraft and its story.
See you at the south Sound's biggest annual airshow!
Olympia Rgnl
Olympia, WA,
More Info: https://www.cafrainier.org/olympia