<< Back to All News
CAF Cadets Visit Jet Linx Corporate Flight Operations
Houston, TX (May 25, 2023) - Gulf Coast Wing and Houston Wing Cadets had the excellent opportunity to visit Jet Linx corporate flight operations at Houston Hobby Airport thanks to CAF Col Field Parsons. Parsons, a pilot for Jet Linx Aviation, gave a presentation about Jet Linx and his experiences flying the Beechjet 400.
Jet Linx offers a career progression into a pilot position with Southwest Airlines. Parsons is currently on this journey that will lead to him flying the Boeing 737 in Federal Aviation Part 121 Operations as a Major Commercial Airline Pilot. Parsons welcomed questions from the cadets about the career path of corporate aviation.
After the presentation, Parsons gave a tour of the facility and the Beechjet 400. Cadets were briefed on the aircraft and were graciously invited to sit in the passenger cabin of the aircraft. Parsons took the right cockpit seat and cycled all tour members through the captain's seat while explaining aircraft systems and cockpit instrumentation.
The cadets and colonels from the Gulf Coast Wing and Houston Wing are incredibly grateful for the educational opportunity CAF Col Field Parsons and Jet Linx provided.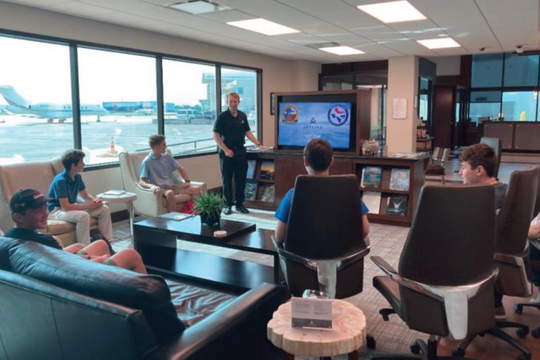 Col Field Parsons giving his presentation to the CAF Cadets
---
Share this page!

---