<< Back to All News
International Council of Air Shows Endorses Bob Hoover Commemorative Postal Honor
June 4, 2019, Jacksonville, FL: An effort announced by the Bob Hoover Legacy Foundation, just weeks ago, to petition the US Postal Service in honoring the late Robert A. "Bob" Hoover with a commemorative postage stamp on or about the time of his 100th birthday, is gaining serious momentum among the aviation organizations, professionals, and luminaries that populate the aviation world.
The International Council of Air Shows, the preeminent organization overseeing the airshow profession and its community, has already stepped up to voice its support for the effort.
"Bob Hoover was arguably the best pilot who ever lived. He was an American patriot and national legend who preached the gospel of aviation for nearly three-quarters of a century. And here at the International Council of Air Shows, we were fortunate to know Bob as an air show colleague, consummate professional and inspiration to millions. While much of the world learned about Bob as one of the best test pilots in aviation history, and even more so as a hero of World War II, the air show community saw him as one of aviation's best ambassadors to rest of the world. Of all the men and women ICAS has been privileged to work with in its history, Bob Hoover stands out as being an exceptional choice for US Postal Service recognition, both for the amazing history he represents, as well providing an inspirational example for future aviation professionals. On behalf of the men and women of the air show community, it is our pleasure to endorse and support the efforts of the Bob Hoover Legacy Foundation to issue a commemorative stamp in honor of the 100th birthday of Bob Hoover in January of 2022," noted John Cudahy, the President/CEO of ICAS.
---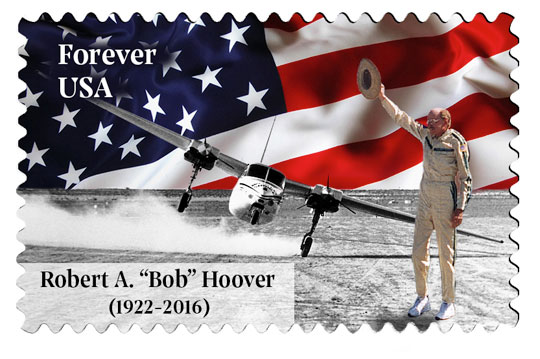 ---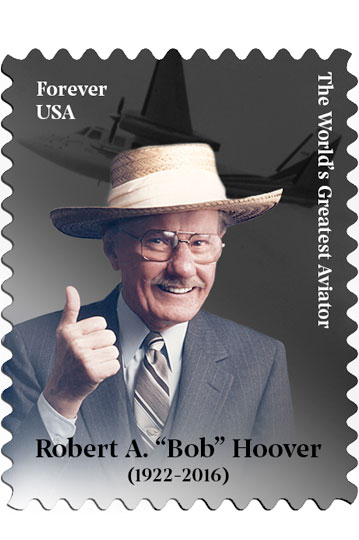 ---
BHLF President, Tracy Forrest, was pleased with the support… "Bob both loved, and was loved by, the airshow industry – so it seems more than fitting that ICAS and its remarkable community of aviation professionals should be among the first to step up in support of this exciting program." The Foundation has commenced a multi-year process necessary to seek USPS selection of Mr. Hoover as a proper subject for such an honor in order to better inform and inspire America about the many ways that Hoover's heroic service to the nation bettered their lives. It is hoped that this effort may also serve as an inspiration to the next generation of young people looking to make their mark upon the world.
BHLF Chairman Michael Herman added that, "… of all the many ways that Bob contributed to aviation, some of his most iconic moments were undertaken while performing at hundreds of airshows all around the world. We couldn't be more pleased at their recognition of, and support for, this honor for our dear friend, Bob Hoover.
The Foundation continues to reach out to the entire aviation industry to support USPS recognition of Bob's life and contributions… and will request endorsements, undertake online and in-person petition drives, and encourage media support as the campaign for this honor escalates in the coming months.
The U.S. Postal Service and the members of the Citizens' Stamp Advisory Committee (CSAC) have set certain basic criteria used in determining the eligibility of subjects for commemoration on all U.S. stamps… including their willingness to "…honor extraordinary and enduring contributions to American society, history, culture or environment."
This fits the memory and life of Robert A. 'Bob' Hoover, to the proverbial "T".
About ICAS: The International Council of Air Shows (ICAS) is a Leesburg, Virginia-based trade association that represents the interests and concerns of air show professionals around the world and in North America, particularly. Formed in 1967 to more effectively address safety issues, manage insurance concerns and more effectively interact with the U.S. military, ICAS is today involved with a wide variety of challenges and opportunities, from legislative and regulatory advocacy to education and training to pilot credentialing and the group's annual convention.
About BHLF: The Bob Hoover Legacy Foundation is a 501c3 organization conceived and formed by R.A. Bob Hoover, in 2016­ to perpetuate Bob's life-long dedication to aviation learning and safety, and to inspire those qualities in succeeding generations of American aviators.
Press Information: Bob Hoover Legacy Foundation (Admin), c/o 6001 Argyle Forest Blvd., Jacksonville, FL, 32244. 863-299-8680 info@BobHooverLegacyFoundation.org, www.BobHooverLegacyFoundation.org