Flightline Services Detachment
Harlingen, Texas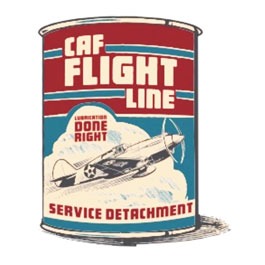 No aircraft currently assigned.
Mailing Address: Flightline Services Detachment P.O. Box 532089, Harlingen, TX, 78553
---
With a long and illustrious history, the CAF- Flight Line Service Detachment stands by the original Corpus Christi Oilers motto: Be There When You're Needed. Without the help of fellow detachment members like Cols Don Emmons, Nancy Emmons, Troy Clayton, Deann King, Joseph Cradit, Steve Lenius, Ryan Linebarger, Larry Fitting, Joseph "Pappy" Padgett, Michael Riggins, Cynthia Riggins, David Bankhead, & Betty Jo Bankhead the Flight Line Service Detachment would not be where it is today.
As the old saying goes, there's no "I" in team. Without everyone's hard work and determination, the detachment "Oil Crew" would not be the finely oiled machine it is today. Many hours and days are spent out on the hot ramps at airshows giving their blood, sweat and elbow grease to make sure each and every warbird, from the B-29 Superfortress to the PT-17 Stearman, gets serviced in a timely manner.
Safety is always paramount, and the Flight Line Service Detachment follows all FAA, ICAS, and CAF guidelines.
As a unit, we take pride in our forefathers who serviced these great warbirds during War World ll. Not only did they put their lives on the line every day in combat, but they also braved the environment, as everything from rain and flooded airstrips in the South Pacific to the snow-covered fields in England, to the desert heat in North Africa and the production factories in the U.S.
The Flight Line Service Detachment would like to thank these brave men and women who gave their all in a time of need and to their ultimate sacrifice for freedom.
If you're a CAF Wing, Unit , Squadron, or Military Base and are interested in using our Flight Line Services for any upcoming airshows please contact Troy Fitting at troydean69@yahoo.com or call (956) 535-1233.
No events currently scheduled.