Blastards Detachment
Midland, TX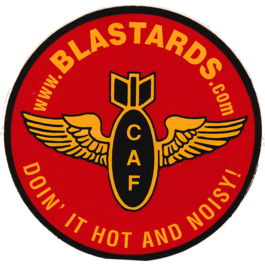 No aircraft currently assigned.
The Blastards are a unit of the Commemorative Air Force (CAF), with headquarters in Midland, Texas. The Blastards are members of ICAS and are approved to shoot for modern military aircraft. For details please visit ACC's website Air Combat Command.
The Blastards work with airshows throughout the United States in performing pyrotechnic displays to create a more realistic airshow. You will experience first hand the noise and excitment of simulated ground explosions and special effect pyrotechnics. These well-timed and highly choreographed demonstrations are preformed by dedicated team members who volunteer their time and efforts to help bring you bone rattling reenactments true to our nations history.
The mission of the CAF Blastards is to stir in the hearts of all Americans the spirit in which these aircraft are flown in the defense of our Nation. The team works to perpetuate the memory of the sacrifices that are made by those who have served our country so that we may continue to enjoy our freedom.
Through the use of pyrotechnics, an airshow can come to life with simulated strafing runs, bomb drops, walls of fire, A-Bombs, and 21 gun salutes and reenactors. The Blastards specialize in working with Ground Force Reenactors to bring pyro to the ground attack in addition to the air attack.
No events currently scheduled.