Coyote Squadron
Corsicana, TX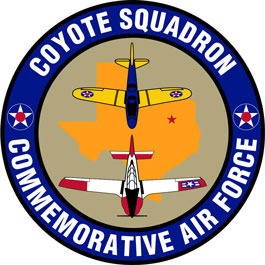 Address:
David Campbell Field - Corsicana Municipal Airport
9000 Navarro Rd
Corsicana, TX 75109
Contact number:

Website:
http://www.coyotesquadron.org/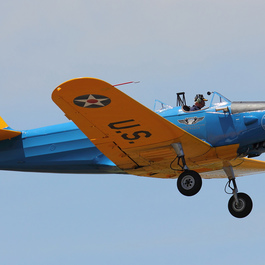 In 1938, while most military pilots were still receiving their initial training in biplanes, the need was recognized for a new trainer, one that more closely approximated the more advanced aircraft the new pilots would soon be flying. Fairchild Aircraft developed a primary trainer, the Cornell M-62. The simple but rugged construction included a welded steel tube fuselage with a plywood-sheathed center section, outer wing panels, and tail assembly, and the whole covered with fabric. The prototype flew on May 15, 1939, and, later that year, won a competition against 17 other designs for the new Army primary trainer. On September 22, 1939, Fairchild was awarded a contract for an...
...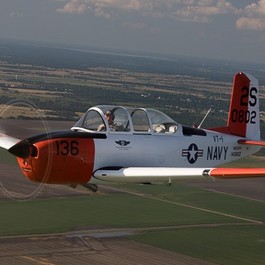 The Beechcraft T-34 Mentor is a proven trainer of the United States military being in service now for over 6 decades! Coming off of World War II, Beechcraft was working on providing an updated and more economical trainer for the US military to replace and retire the T-6 Texan. The T-34 Mentor was a cousin to the Beechcraft Model 35 Bonanza. The T-34 finally entered military service in the early 1950s when the United States Air Force began to replace the AT-6 Texan fleet with this new trainer. The T-34 was first step in a military pilot's training before advancing to the T-28 Trojan. In the mid 1970s, the US Navy began to operate turbine powered variants, also known as the T-34C...
...
The Coyote Squadron is committed to preserving the legacy of the persons and planes that flew in defense of America, and to bringing to life America's military aviation heritage in Corsicana. We do this through the restoration of our own primary trainer, a Fairchild PT-19 like those flown at the Corsicana airfield 1941-1944 when it was used as an Army Air Corps flight training facility. Our PT-19 is housed in the Tucker Hardgrave Memorial Hangar at the Corsicana airfield. Tucker Hardgrave, a longtime citizen of Corsicana and a recipient of the Silver Star, the Distinguished Flying Cross, and the Air Medal, was a founding member of the Coyote Squadron.
No events currently scheduled.