Great Plains Wing
Council Bluffs, IA
No aircraft currently assigned.
The Great Plains Wing started in the Omaha/Council Bluffs area in 1984. It was originally chartered as the Nebraska Squadron and met at the Strategic Air Command Museum. The squadron helped to restore a C-47, B-17, B-25, and B-29. In 1986, the squadron changed it's name to the Great Plains Wing. In 1988, a new hangar was built at the Council Bluffs airport including a museum and meeting room. In 1990, our P-51 "Gunfighter", joined the wing's L-3 and L-5.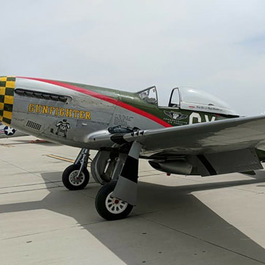 Open Hangar at Great Plains Wing More Info
August 10. Open Hangar at Great Plains Wing – Bring the whole family! Experience the sights, smells and sounds of the historic planes that won WWII, with rides and demonstrations! Breakfast by the Pancake Man from 8a – 11a
Great Plans Wing Open House More Info
August 7, 2021- 8:00 AM to 4:00 PM- The CAF Great Plans is hosting an Open House- Everyone is welcome!
Free Admission: Breakfast from 8 a.m. - 11 a.m. Food trucks for Lunch
Location: Council Bluffs, Iowa Council Bluffs Municipal Airport
About the Unit: The Great Plains Wing Hanger houses two vintage World War II aircraft. The P-51 Mustang "Gunfighter"(Joined 1990) and a AT-6 Texan (Joined 2015). Both are usually on display undergoing maintenance in the Fall and Winter.