Colonel Larry Lumpkin (P-51 Gunfighter)
Council Bluffs, IA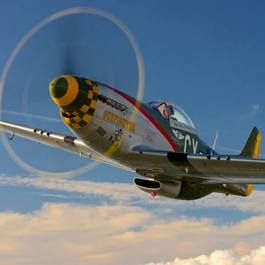 Gunfighter is one of the world's most famous P-51 Mustangs, having appeared on the airshow circuit and providing rides for over 35 years. The aircraft is a P-51 "D" model, serial number 44-73264. Of the approximately 15,000 P-51s produced in WWII, over 8,000 were "D" models. Today, only about 150 airworthy examples of Mustangs exist world-wide in museums, flying or under restoration. Gunfighter was built in the Inglewood, California North American plant and accepted into the USAAF in March, 1945. That month, it was shipped to England, where it was assigned to the famous 'Mighty Eighth' Air Force. In July of 1945, after the War ended in Europe, it was returned to the U.S. and assigned...
...
For nearly 40 years, "Gunfighter" has been thrilling Airshow crowds, and providing dream flights for lucky riders throughout the United States. Our goal is to honor our veterans and serve their families by keeping alive the sights and sounds of this great aircraft! Make a point of coming to see us at one of our Airshow appearances or ride event stops this year!
No events currently scheduled.