Joe Foss Squadron
Sioux Falls, SD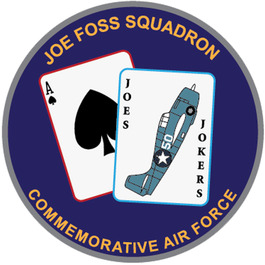 Address:
Maverick Air Center
4201 North Maverick Pl
Sioux Falls, SD 57104
Contact number:
(605) 261-4638
Website:
https://www.cafjoefoss.org/
Welcome to the Joe Foss Squadron of the Commemorative Air Force. The Joe Foss Squadron, established in 2013, is located in Sioux Falls, SD. The Joe Foss Squadron is honored to fly a true WWII combat aircraft. The first aircraft assigned to the Squadron is a 1944 Stinson L-5B Sentinel. Our aircraft left the United States in early 1945 and was assigned to the 71st Infantry Division. The aircraft later became a part of the New York Civil Air Patrol. Both our name sake, Joe Foss, and our first aircraft have an amazing history to be told. Members of the Joe Foss Squadron enjoy the opportunity to keep this history alive ensuring these sacrifices will never be forgotten.
Please help us keep these stories alive and help us keep this great piece of American military aviation in the sky.
No events currently scheduled.