Invader Squadron
Fort Worth, TX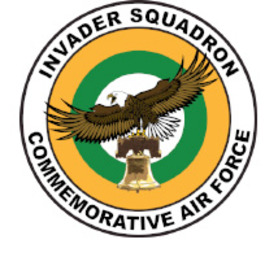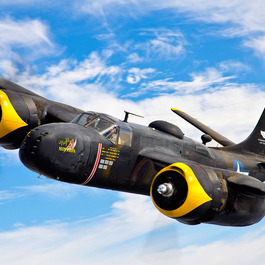 A-26B SN# 43-7140 was built in 1943 it was the 328th A26B built at the Douglas plant in Long Beach, Calif. It was delivered to the USAAF on December 8, 1944 and given the USAAF serial number of 41-39427. It served with the following military units listed below: - 127th base unit at Florence S.C. - January 4, 1944 through November 13, 1945 - 4160th base unit Air Material Command at Hobbs Field N.M. - November 13, 1945 through September 1948 - 4127th base unit Air Material Command at McLellan AFB in CA - September 1948 to March 13, 1950 On March 13, 1950, the aircraft was stricken from the USAF inventory and sold on the civilian market. The aircraft spent 2 years in...
...
The Commemorative Air Force - Invader Squadron was formed in February 2009 to restore the Douglas Invader, registration number N240P, back to flying condition and in the color scheme of the legendary aircraft; flow by Medal of Honor recipient, Captain John S. Walmsley, Jr. This year, the Squadron has expanded and now is home to a Beechcraft T-34B Mentor. Both aircraft are based at Meacham Airport in the hangar of the Vintage Flying Museum and the Squadron has 100+ members devoted to maintaining and keeping the planes in pristine and flying condition. All members are volunteers and many in addition to devoting their time also make additional financial contributions to the project.
Our Squadron ideals are: The restoration and promotion of the A-26 and T-34B through volunteer supported educational and entertainment events. The promotion and expansion of the Invader Squadron volunteer force with the implicit goal of supporting the Commemorative Air Force and our Squadron aircraft.
No events currently scheduled.