Big Easy Wing
New Orleans, LA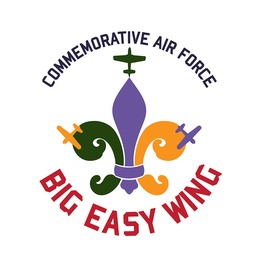 Address:
New Orleans Lakefront Airport
8550 Stearman Dr
New Orleans, LA 70126
Contact number:

Website:
https://bigeasywing.org/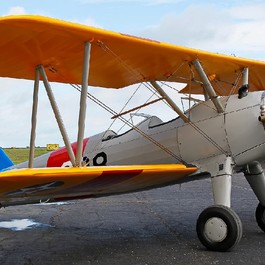 The Big Easy Wing is proud to be the caretaker of the Stearman (N1617M). An iconic biplane that served as the basic trainer for the men and women of the "Greatest Generation." This colorful Lady has a long and rich history of serving in the military, supporting agriculture development and adorning the sky in aerobatic shows. For 75 years, this Lady has soared the skies. Now, it has become our wing's obligation to preserve her legacy and her living history for future generations to come
The Big Easy Wing is a newly formed organization officially designated on Friday, April 28, 2017 by the Commemorative Air Force.
Designed to acquire, restore and preserve WW2 Warbirds to flying conditions.
We want you! Individuals who are interested in flying and learning the historical importance that these aircraft's served in the "War to End all Wars". To become a member of this organization, you must first become a member of the Commemorative Air Force (CAF) which is $200.00 per year. The Big Easy Wing dues is $50 per year. We are looking for all interested members whether you are fascinated by restoration, public relations, or piloting one of these phenomenal aircrafts. All pilots must be licensed.
St. Landry's Parish Warbird and Fly-In Expo More Info
Friday, June 26, 2020 at 6 PM – 8 PM St. Landry Parish Airport Public · Hosted by Commemorative Air Force-The Big Easy Wing and CAF Gulf Coast Wing's B-17 Texas Raiders Tickets b17texasraiders.org St. Landry Parish 2nd Annual Summer "Fly In" & Vintage War-bird Expo, June 26th – 28th at the Arhart Field Airport in Opelousas. The event will feature vintage aircraft, airplane tours, food trucks, live music, classic car displays, RC airplanes & much more. The CAF Big Easy Wing N2S Stearman trainer will be joining the B-17 Flying Fortress "Texas Raiders" and the Navy JRB Expeditor "Little Raider" at this event. These aircraft will be available for tours and rides. In an effort to...
...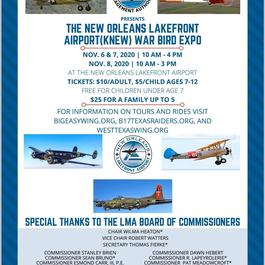 New Orleans Lakefront Airport Warbird Weekend More Info
November 6-7-8 will be an exciting weekend. The planes, the sounds, and the stories of World War II aviation will come to KNEW. The public is invited to enjoy aircraft tour, or to take the ultimate Living History Flight Experience and see the New Orleans from the sky! Admission to the event is $10/adult, $5 for children 7-12, and $25 for a family of up to 5 and includes access to all the aircraft for cockpit tours.