WASP Squadron
Dallas, TX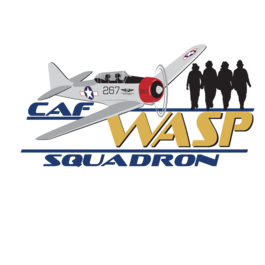 Address:
Dallas Executive Airport
5661 Mariner Drive
Dallas, TX 75237
Contact number:
(214) 244-0876
Website:
https://riseabovewasp.org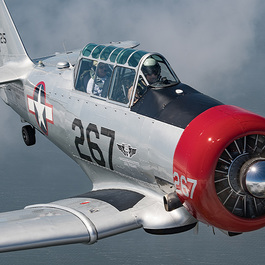 This AT-6, affectionately referred to as 'Nella, reflecting the WASP mascot Fifinella, was flown by the WASP in training classes from mid 1943 until the WASP were disbanded in December 1944. She was also the final check ride plane for some WASP to receive their silver wings. Today she is the responsibility of the WASP Squadron. She will be touring as part of the Air Power History Tour, giving rides to as many original WASP as possible. To date she has provided seven flights, and proudly holds their signatures in her luggage compartment. She also proudly displays her banners, telling her story to interested students.
As noted by historian James Baldwin, "History does not refer merely, or even principally, to the past. On the contrary, the great force of history comes from the fact that we carry it within us. . .and history is literally present in all that we do." The mission of the CAF WASP Squadron is to honor the Women Airforce Service Pilots and use their history to inspire young people to overcome current day challenges to achieve their dreams; to make the WASP history part of everything they wish to achieve. The CAF RISE ABOVE educational initiative will encourage students to utilize six guiding principles: Aim High, Believe in Yourself, Use your Brain, Never Quit, Be Ready to Go, and Expect to Win.
No events currently scheduled.