WASP Squadron
Dallas, TX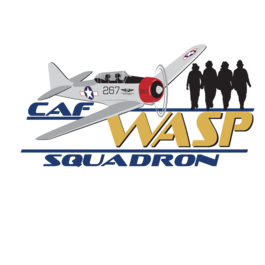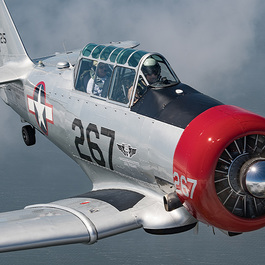 This AT-6, affectionately referred to as 'Nella, reflecting the Women Airforce Service Pilots (WASP) mascot Fifinella, was flown by the WASP in training classes from mid-1943 until the WASP were disbanded in December 1944. She was also the final check ride plane for some WASP to receive their silver wings. Three identified WASP Cadets flew this very aircraft while training. Today she is the responsibility of the WASP Squadron. She will be touring as part of the Air Power History Tour, giving rides to as many original WASP as possible. To date she has provided seven flights, and proudly holds their signatures in her luggage compartment. She also proudly displays her banners, telling her...
...
The CAF WASP Squadron is a unit of the Commemorative Air Force dedicated to honoring the Women Airforce Service Pilots (WASP) of World War II – America's first female military aviators – by inspiring the next generation by telling of the WASP accomplishments, their drive and focus.
The group's educational outreach programs provide young people, especially young women, a greater appreciation of their own potential, an awareness of the opportunities that surround them, and a mentorship pathway to accomplish their dreams.
The Squadron operates an AT-6, known as "Nella," which tours across the country. The aircraft was used to train WASP at Avenger Field in World War II. Three WASP cadets have been identified as flying this aircraft while in training. Today, the aircraft is an outdoor classroom, used to tell the story of the WASP. CAF WASP Squadron members support benefits and events related to WASP and the Commemorative Air Force.
No events currently scheduled.