Capital Wing
Culpeper, VA
Address:
Culpepper Regional Airport
12499 Beverly Ford Way
Culpeper, VA 22714
Contact number:
(540) 402-1818
Website:
http://www.capitalwing.org/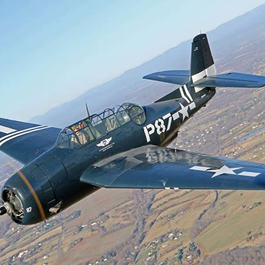 Our TBM-3E Avenger is a Grumman designed (TBF) aircraft built under license by GM in New Jersey in 1945. Assigned initially to the US Marine Corps, we know that this aircraft served as a replacement aircraft in several USMC training units in California from 1945 to 1948 and then was transferred to the Royal Canadian Navy in 1952.
The Avenger was bought by the CAF Stars & Stripes Wing in 2001 for $64,000 and flown to Frederick, MD for restoration to the TBM-3E WWII configuration.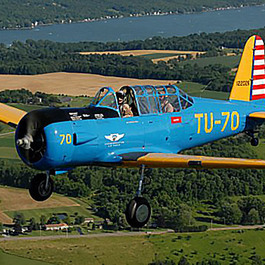 Our aircraft was manufactured at the Downey, CA plant and was delivered to the USAAC in November 1942 where it was used in basic pilot training at Shaw Field, SC. After the war it was transferred to the Civil Air Patrol in California. They modified the engine by replacing the standard BT-13 Pratt & Whitney R-985 with the 600 hp Pratt & Whitney R-1340. The cowling was also modified to cover the bigger engine. The Civil Air Patrol used the BT-13 to patrol the west coast until the late 60's. In 1970, the BT-13 was purchased by Frederick Walker, Sr. Frederick Walker had flown B-17's in World War II and then spent the rest of his career flying missions for the CIA. He served in the Viet...
...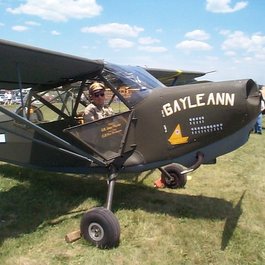 Our L-5, the "Gayle Ann", represents one of the most decorated L-5's flown by the 25th Liaison Squadron, 13th Air Force, supporting the Allied WWII drive from Australia through New Guinea back to the Philippines.The crew, consisting of pilot, SSGT Jerry Felter, and forward air controller, Capt. Leo Kellett, made up what was considered to be the finest FAC Team in 13th Air Force. In fact, the records show that this crew was involved in the birth of the airborne FAC concept, proving the value of directing air strikes on enemy ground positions from an airborne perspective. The aircraft cowling shows completion of 15 FAC missions as well as a Japanese boat silhouette for the sinking of that...
...
We are one of the largest and fastest growing units in the Commemorative Air Force (CAF) in the Mid-Atlantic region, and we invite you to explore our website. We are always looking for new members who enjoy working around or flying World War II aircraft. Our 80+ members are actively involved in maintaining and flying 3 Squadron (TBM-3E, BT-13, & L-5) and 9 Member-owned aircraft. Please let us know if you would like more information, and we invite you to join us during our next Open Hangar event (2nd Saturday of every month) at the Culpeper Regional Airport. The Capital Wing is part of a national 501(c)3 charitable non-profit organization. There are many ways you can be a part of our mission!