B-29/B-24 Squadron
Dallas, TX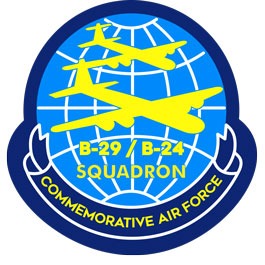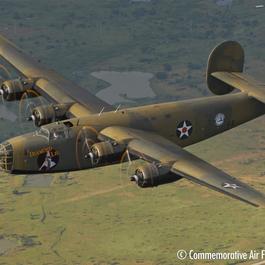 Contracted to be built for France in 1940 and later contracted to be diverted to Great Britain as AM927, this Liberator was the 25th built out of a total of 18,482 B-24s. The total number built is documented as 19,267 with the inclusion of all variants. This aircraft's construction was completed as serial number 18 and accepted by the British Air Ministry in May 1941. Two days later, a Consolidated Aircraft Company (CAC) aircrew flew AM927 to Kansas City and handed it over to Trans World Airlines (TWA). TWA had been contracted to conduct flight crew training out of Albuquerque, NM. AM927 was then flown to what was called the TWA "Eagle's Nest Flight Center" in Albuquerque, NM to be used...
...
FIFI was acquired by the CAF in the early 1970s when a group of CAF members found her at the U.S. Navy Proving Ground at China Lake, California where she was being used as a missile target. The airplane was rescued and restored and flew for over thirty years until 2006 when the chief pilot made the decision to ground her pending a complete power plant re-fit. What followed was an extensive four year restoration that included replacing all four engines with new custom built hybrid engines. FIFI returned to the sky in 2010 and since that time has traveled coast to coast attracting large crowds at every tour stop.
They Call it the Pilot Maker... ?Officially named the Boeing Model 75, this airplane is almost universally known as the "Stearman." The Army designated it the "PT," the Navy the "N2S," and the Canadians called it the "Kaydet." By any name, it is recognized as the quintessential primary trainer for American aviators in World War II. The U.S. Army Air Corps first ordered the Model 75 in 1935, one year after the Stearman Aircraft Company of Wichita, Kansas was acquired by Boeing. This two-seat biplane incorporates wood-framed wings with fabric covering and a fuselage with welded steel framework, also fabric covered. In 1940, with War on the horizon, production ballooned with 3,520...
...
The B-29/B-24 Squadron is proud to be housed and partnered with the Vintage Flying Museum. Our Squadron aircraft may be seen while visiting the Vintage Flying Museum. Please be advised that the Squadron aircraft are often touring the United States. Please check our schedule page for details or call the Vintage Flying Museum for more information.
No events currently scheduled.