Gulf Coast Wing
Spring, TX
Texas Raiders B-17GTexas Raiders is one of the most recognized and famous Flying Fortresses currently on the airshow circuit. It has been recognized by AIR CLASSICS magazine as the best restored B-17G bomber currently flying in the world. The aircraft has been restored to wartime configuration by an entirely volunteer group of dedicated supporters. The aircraft has one of the most unusual histories of any existing Flying Fortresses flying today and is one of the most active and visible.
Condensed from: Texas Raiders The History of a famous Flying Fortress Operated by the Commemorative Air Force Copyright © by Col. Everett K. Gibson, Jr. PhD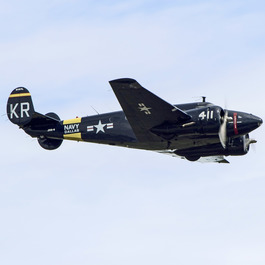 The 1947 Beechcraft model D18S arrived at Hooks Airport in Spring, Texas in August of 2016 from her former home in Ft. Worth. Routinely referred to as a "Twin Beech," over 9,000 of these aircraft were produced at Beechcraft in Wichita Kansas, making it one of the world's most widely used light aircraft. 4,500 of them saw military service during and after WWII. Commonly referred to with the military designation of C-45, these aircraft were used in the military as light transports, light bombers, and photo-reconnaissance planes. Large numbers of them also saw service as aircrew trainers for bombing, navigation and gunnery. In World War II, over 90% of USAAF bombardiers and navigators...
...
Our membership is comprised of hard-working volunteers whose love of aviation history, preservation, and the meticulous restoration of the aircraft in their charge, keeps these vintage warbirds flying.
The Gulf Coast Wing receives no state or federal funds, and depends on public contributions for the maintenance, support, and flying operation expenses of Texas Raiders, an authentically restored B-17G and one of only nine (9) B-17 Flying Fortresses left flying at any given time.
No events currently scheduled.