Gulf Coast Wing
Conroe, TX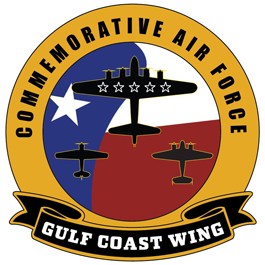 Address:
Conroe/North Houston Regional Airport
5260 Central Parkway
Conroe, TX 77303
Contact number:
(855) 359-2217
Website:
https://gulfcoastwing.org/
No better aircraft could symbolize America's aviation status at the start of America's entry into WWII than its premier, advanced flight trainer that will eventually be responsible for arguably training more fighter and bomber pilots than any other single series aircraft type. Gulf Coast Wing's SNJ-5 "Sassy" is the Navy & Marine version of the North American Aviation T-6 Texan, a single-engine advanced trainer aircraft used to train pilots of the United States Army Air Forces, United States Navy, Royal Air Force and other air forces of the British Commonwealth during World War II and into the 1950s. Designed by North American Aviation, the T-6 is known by a variety of designations...
...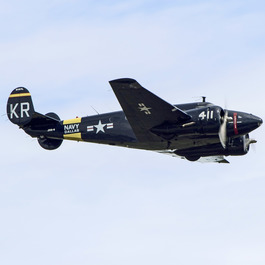 The 1947 Beechcraft model D18S arrived at Hooks Airport in Spring, Texas in August of 2016 from her former home in Ft. Worth. Routinely referred to as a "Twin Beech," over 9,000 of these aircraft were produced at Beechcraft in Wichita Kansas, making it one of the world's most widely used light aircraft. 4,500 of them saw military service during and after WWII. Commonly referred to with the military designation of C-45, these aircraft were used in the military as light transports, light bombers, and photo-reconnaissance planes. Large numbers of them also saw service as aircrew trainers for bombing, navigation and gunnery. In World War II, over 90% of USAAF bombardiers and navigators...
...
Our membership is comprised of hard-working volunteers whose love of aviation history, preservation, and the meticulous restoration of the aircraft in their charge. They operate two warbirds which are maintained and hangared at our home field in Conroe, Texas, a JRB "Little Raider" and an SNJ-5. These vintage and rare aircraft typically operate from April to November each year, representing the CAF locally and across the U.S. at airshows, flyovers and civic events. Gulf Coast Wing members are highly trained in a variety of flight and ground crew roles, all working as a team to bring these experiences to the public. By joining the CAF Gulf Coast Wing and engaging with fellow members, you can become part of the crew, helping them deliver the mission and even flying with in these unique, historic airplanes.
No events currently scheduled.